Now a days google introduced lots of new features. That is one of the milestone is google search by image.
How to do this:
goto the link http://images.google.com
drag and drop a image from a website or from your computer /click the camera icon form end of search input-box then select on mouse click.
you will get the search result (near to related image search result).
Also you can goto the image search also.
Then you may said "awesome".
Check the screenshots, you may have some idea.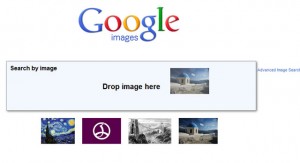 Promo video:

More information : google search by image