MA Chidambaram stadium is one of the best stadium for cricket match like world cup, IPL and national matches. Now its fully allowed by corporation and increased crowds. If you are going to watch matches you has to follow the guidelines.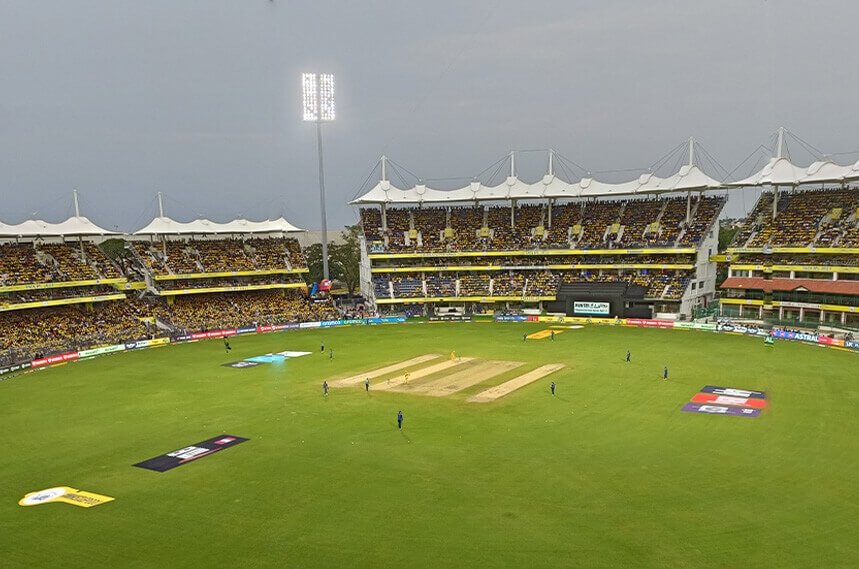 Below list of guidelines will help you,
No electronic equipment including digital cameras, laptops, tablets, drones, power banks or any other electronic equipment other than Mobile phones will be allowed inside the stadium.
Helmets, laptop bags, umbrella and/or other bags will not be allowed inside the premises. No Lockers facilities
Audiences are requested to note the entry and gate mentioned in the tickets for access into the stadium.
In the counter / online sale, we will issue two tickets per person.
Car parking / two-wheeler parking are available near by areas:

Kalaivanar Arangam Parking Area
PWD Parking Area – opposite to V Pattabiraman Gate or Wallajah road
Madras University Campus
Omundurar Medical College Campus

Chennai Super Kings / TNCA encourages audience to use public transport during match days due to limited parking inside and outside the periphery of the MA Chidambaram Stadium.
This stadium is a plastic-free zone and no plastic bags will be allowed inside the premises.
No tobacco zone and no cigarettes, Beedi, gutka, Pan masala or any other tobacco will be allowed inside the premises.
Free drinking water facility is available for the public at specific areas in all stands.
TNCA has identified seats in I lower stand for physically challenged Patrons requiring wheelchair to access the stadium. These seats will only be reserved for Physically challenged patrons.
Audience buying online tickets will be allowed entry by scanning e-tickets with barcode or QR code at the gate. Audience will be denied entry if scanners find them to be duplicate.
Entry gates will be opened two hours prior to the matches.
No Re-entry will be permitted.
No food or beverage will be allowed inside the premises including deliveries.
Pets not be permitted inside this stadium.
#CSK
#IPL
#Cricket